Nick Carter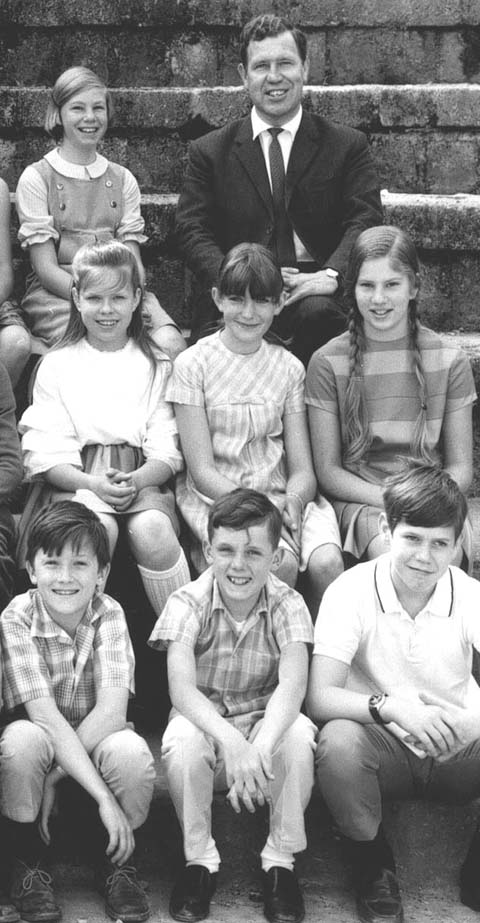 My most vivid memory of Mr. Carter, apart from his habit of fiddling with chalk which he invariably got all over his clothes and face, dates back to primary school in the early '60's when, for reasons I have now forgotten, he was asked to supervise our class at regular intervals - it could have been lunch. He used the opportunity to read us a children's thriller that he himself was writing, a real cliff-hanger as I recall. However, just when the suspense was reaching its peak and the hero, having suddenly identified the villain on a beach in southern England by a paint stain on the back of his coat, gasps "Him???! Him???!", we were informed that the last couple of episodes had not yet been written - after which term ended, and we never discovered who the "him" in question was. One of the great frustrations of my life... If anyone out there has any information...
Robin Halle LGB 1970
Could that possibly have been the thin, red book, "Chang?" It was about a Siamese boy and his coming of age as he discovers where the elepants go to die! I actually still have a copy of the book!
-- Dan Dietsch, LGB '70
I remember that! Although I doubt that it's the mystery that Robin was thinking of, I do recall his reading us a book about where the elephants go to die in 1963.
Mr. Carter taught us science of sorts when I was in 5th grade. He got us started on making our own hygrometers using a human hair, a broomstraw, a soda straw, and a 5F coin. Trouble is, the school year ended before the project was finished. When I heard of the unfinished book I thought of this project.
Jim Handy, LGB '70 (5th & 6th grades, '63 & '64)
Maybe it was "Poo Lorne of the Elephants" (I didn't make this up, it is a classic of that era).
Tooker, Paul
I remember the thin red book - which seemed very thick to the non-reader I was at the time - by Elizabeth Morse I think. Mr Carter's story, far from being set in the Siamese Jungle, was set in Devon or Cornwall. It was written by Mr. Carter himself, and if it was ever completed, it was probably never published.
Robin Halle, LGB '70
I wonder how I can have access to stories about Mr. Carter.
Liv Sovik 1973
Mr Carter's class 1966-7
Nick Carter taught us social studies when I was in Class 6B in 1962-1963.
Most memorable classes:
The story of Charles Dawson, who fraudulently claimed to have made a great archaeology discovery.
The story of Charles Darwin and all of his teachings. Too bad all these so-called "intelligent design" nuts that are running around the USA these days thumping their bibles didn't hear this great lecture which would have set them straight.
Reading a poem to us that ended "I'm weary of hunting, and fain would lie down."
A class on the dangers of smoking. And not just cigarettes. Very foresighted and pretty revolutionary for it's time.
The story of the Minatour and the Maze.
And it was always fun to watch him draw freehand on the blackboard a very accurate outline of the British Isles, in less than four seconds.
Dave Clark
Dave, You're bringing back more memories!
I remember Mr. Carter reading several things to us, one being Lord Randall, the English folk song whose lyrics you partially noted. One rendition of the lyrics can be found at
http://www.missouristate.edu/folksong/maxhunter/0572/
Another was Tennyson's "The Charge of the Light Brigade" and another Kipling's "Gunga Din."
I don't recall if Mr. Carter taught my class about Theseus and the Minotaur. I do remember that everyone in what I believe was the '63/'64 6th grade (6A-6D) studied Greek mythology and we collectively put on a skit for the rest of the school. As Nick McKeown and I could both imatate a dog's barking we played the role of Cerberus, the 3-headed canine guardian of the gates of Hades.
Nick's dad was a physics teacher in secondary school.
Jim Handy, LGB '70
there's your Mr Carter poem
Lord Randal
"O where hae ye been, Lord Randal, my son?
O where hae ye been, my handsome young man?"
"I hae been to the wild wood; mother, make my bed soon,
For I'm weary wi hunting, and fain wald lie down."
"Where gat ye your dinner, Lord Randal, my son?
Where gat ye your dinner, my handsome young man?"
"I din'd wi my true-love; mother, make my bed soon,
For I'm weary wi hunting, and fain wald lie down."
"What gat ye to your dinner, Lord Randal, my son?
What gat ye to your dinner, my handsome young man?"
"I gat eels boild in broo; mother, make my bed soon,
For I'm weary wi hunting, and fain would lie down."
"What became of your bloodhounds, Lord Randal, my son?
What became of your bloodhounds, my handsome young man?"
"O they swelld and they died; mother, make my bed soon,
For I'm weary wi hinting, and fain would lie down."
"O I fear ye are poisond, Lord Randal, my son!
O I fear ye are poisond, my handsome young man!"
"O yes! I am poisond; mother, make my bed soon,
For I'm sick at the heart, and I fain would lie down."
(The novelist, Sir Walter Scott, discovered this old ballad and published it in Ministrelsy of the Scottish Border, 1803. German and Italian versions exist of this ballad and some are even older than the old medieval English ones.)
Claudia Merson
Gosh, and I get sentimental thinking of a few years earlier, and Mr. Carter reading "Oliver Twist" to us in about 6th grade!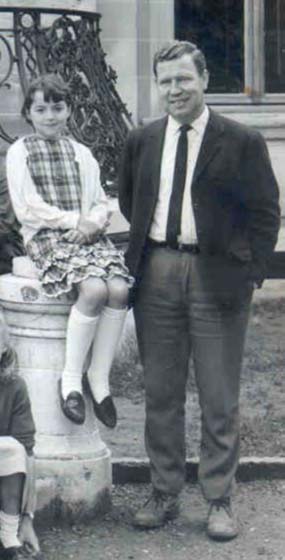 Mr. Carter was definitely one of the top three teachers I've ever had, way back in 6th grade in about 1964. I loved Oliver Twist, and when I recovered from a near-fatal baseball accident, my parents took me to London and we saw the production of Oliver from the 2nd or 3rd row, center! Close enough that the kids in the play, who were mostly my age, could look me in the eye and actually smile or wink at me!
Today in Chicago I'll say it's our introduction to Autumn (read, Winter.) Gunmetal gray skies just like we used to see over Lake Geneva, except it's Lake Michigan. And the only "mountains" in the distance would be the skyscrapers, if you're approaching from the east over the lake. It might even snow tomorrow night or Wednesday!
Back to Mr. Carter. His gifts were his leadership by example, and his integrity (is that redundant?!!) He would tell us to prepare our readings, so that when he called on us, we could read with expression - with feeling! And then he would show us exactly what he meant. One of the few "adults" in my early experience who actually "walked the talk!" (MUCH more on that subject later, over some serious red wine.)
Anyway, I think Mr. Carter's influence on me is vast - I got to see firsthand what it was like to say what you mean and do what you say - the ideal in the flesh.
Peace to you, Audrey, and to all of Mr. Carter's students and friends,
Dan Dietsch, LGB, '61 - ' 65, grad. 1970
Nice to hear of Mr. Carter. I presume you enjoyed Oliver Twist. I can see it was right up his street. Mr Carter and I have several points of contact. He was our neighbour for many years until he died. I discovered as young man he used to work in a grocery shop where my mother did her shopping. He used to love Enney in the Gruyère and for other reasons that is where we now live.
Audrey Johnson
Discussion of Mr. Carter and Enney reminded me of a trip I took in the twelfth grade as an assistant for the 6th graders. (If Lisa Vecchi-Cooper is reading this, she was on that trip). As an assistant, I sat with the teachers at meals in the colonie de vacance, which was owned/run by a local farmer. On the first evening, the farmer came by towards the end of supper to offer us his home-made "pomme". The first glass was quickly handed down the table to me, with the others at the table declining, with exception of Mr. Carter, while I was informed that it would be rude if I didn't have some. By the next supper, I knew to speak up quickly and forcefully that I, too, would pass. And any feelings of being a "grown-up" quickly disappeared as Mr. Carter teasingly told stories of my early childhood to the gathering of staff -- my family had also moved to Pont Ceard at about the same time as the Carters.
Margo Malakoff (LBG '78)
P.S. Does anyone remember losing electricity on the 6th grade trip to Enney? It was an accident, Mr.Carter (R.I.P.)
Ted Babiy (1975)
Can you tell me more of when Mr. Carter lost the electricity?
Audrey Johnson
I have been reading the pieces about Mr Carter with great interest. The last contribution about Enney brings back fond memories.
I was hoping that someone would mention this jellyfish animal that he used to teach us about. Let me try to sum it up.
This dreaded animal has sails and can be propelled by the wind. It also has sophisticated pump characteristics not unlike a man made version. The tentacles are highly poisonous and yet they welcome certain fish which can pick on leftovers without being harmed.
As you can see my words can never replace the huge picture he used to draw on the blackboard for everyone to see.
Ian Tong LGB 1975
Who can forget Mr Carter and that Portuguese Man o War? He was something special.
Carter was great. No doubt.
I had him for science in 5th and 6th from 69-71.
Tom Keresztes LGB '77
Although I never had him as a teacher, I remember Mr Carter providing our grade (probably 5 and 6) with a special introduction to the sciences. I believe that this is what led me to my present researches in the Earth Sciences and dinosaurs. I am eternally grateful for his stimulating insight into the world of science.
Neil Clark (LGB 1969-1979; 13th)
I also credit Mr. Carter with nurturing my interest in the sciences with his visits to our 6th grade class. He was also very supportive and helpful when I carried out my Masters and PhD research at LGB with elementary and middle school students. At the end of it all, I dedicated my PhD thesis to him because of the role he played in my intellectual development.
-Margo Malakoff (LGB, 1971-78).
Thanks for bringing back the memories of Mr Carter. Am I the only one whose abiding memory of him were his oft-repeated words "millions upon millions of years ago....."? One of the greats.
Mike Landy (1972)
I too remember Mr. Carter. He was our primary school principal when I was in 5th and 6th grade. I just remember vividly -- all these years ago! -- that his beard to the side resembled a pipe stem.
Steven Slater
It comes as no surprise that Nick Carter was a former actor, so spellbinding were his lessons which I remember always looking forward to. Some stories he told replay in my mind as if they were motion pictures or paintings I had witnessed rather than lectures I listened to at school. Although Nick Carter merely came once a week for his daily science lesson throughout my junior primary years at Ecolint and I never had him as a home teacher but as the headmaster of the junior primary division he will always be fondly remembered and sadly missed.
Johan Hellberg
While looking at the online photo album, I came across two class photos with Mr. Nick Carter. They are available online at: http://alumni.ecolint.net/photos/classes.html Year of 1972 - Class 5 and, Year of 1975 - Class 6-2
Nick Carter was head of the primary school at that time. During the 6th grade, there was a week-long outing for the entire class to Enney near Gruyeres. We all had great fun on the excursions to the Cailler chocolate factory as well as the traditional cheese-making farm. There was an orienteering competition, and the morning room inspections. Not to forget the big dance at the end of the week when all of the girls sat across the room facing the boys. It seemed like ages until someone got the idea that you had to go across the floor and ask someone to dance.
Enjoy, Richard McMullen (1975)
[...] I was his close neighbour as well as a colleague I am sending my recollections.
He was a marvellous raconteur and perhaps being an actor is part of what is needed to make a teacher who grips the attention and stimulates the imagination. It took me a long time to entangle the fact from the fiction. The following seems pretty certain.
As a boy he lived in Portsmouth. His father was in a branch of the navy and killed during the war. He had at least two sisters. He went to train to be a teacher relatively late. He was certainly not a vegetarian and loved his food and drink. He had two daughters Jocelyn and Melanie and a son Justin. He lived in Pont Céard in Versoix from the time the appartments were built until his death. He died of a brain tumour aged 60 in early March 1990.
He liked to go to Spain on holiday and he loved to take the school group to stay in Enney close to Gruyères. Until about 1974 the 'colony' in Enney was on the main road next to the church. Then a new building was built a little higher up. The association which promotes Gruyère cheese has also built a new building. There is a visitor centre at the station at Pringy which is the stop for Gruyères. There is a demonstration of cheese making there every morning and afternoon, a shop selling tourist goods and a café/restaurant which is also used by the locals. The milk to make the cheese and cream is brought in twice daily by the local farmers. In the other villages of the valley there are collection points from which the milk is then taken to Pringy by tanker. So all the milk being turned into cheese is produced by the cows grazing on the slopes.
From the visitors centre it is a steep, short walk up to the old city and the castle or you can take a little train like the one that runs along the quays in Geneva. In 1895 there was a Swiss National Exhibition in Geneva. A member of the family who owned the castle (they were great patrons of the arts, musicians, painters including Corot and poets stayed there) organised for the exhbition to contain a Swiss village based on the villages around the castle. Some buildings were taken down and re-erected (one is still in the grounds of the Ariana Museum) others were reproduced. Animals were taken and peasants to tend them. They were even filmed making Gruyerian peasants among the first people to be movie stars. It was an enormous success and fixed, along with Heidi, an image of Switzerland which has been carefully preserved ever since.
The chocolate factory still has visits in summer but I am told since Nestlé took it over they are not what they were - industrial secrecy requirements. It was not because of the proximity of the milk that Broc was chosen. The factory was to have been in Valais but the authorities feared it would prove more attractive to the young women than picking grapes and refused permission. The entrepreneur found abundant hands among the young women of the valleys south of Bulle. He spent considerable sums to link the factory with the railway line. The SFF now wants to stop delivering to the factory which has caused outrage. It is against the avowed policy of getting transport off roads and onto rail and will cause havoc in Broc village.
Also during that school visit to Enney Mr. Carter took the children to see teh waterfall at Grandvillard. A stream called the Taouna makes a double drop from the upper area where the summer pastures are to pass through the village to enter the Sarine. This summer we had the most violent storm in living memory. It came up from Montreux and Vevey where it did a great deal of damage. Hailstorms went through windows like bullets. In Grandvillard many trees fell. Then a month later a period of heavy rain caused the Taouna to undermine its banks. The fire force, who also deal with these situations, had to climb above the waterfall to spend hours during the night clearing any debris obstructing the flow of water. The path along the stream leading to the waterfall was swept away and is being reconstructed by volunteer political refugees. Those who have been may remember that before the waterfall is a reconstruction of the grotto at Lourdes. There are several of these in the region but this is the largest and prettiest. It was built by a saddler of the village. I am sure Mr. Carter could have embroidered a wonderful story from this and the storm damage last summer.
Audrey Johnson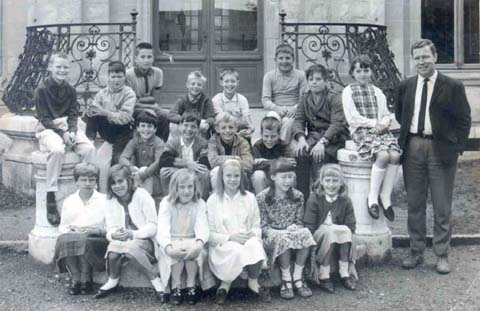 Return to Tributes to Ecolint Teachers
2006-01-26 by:
Ecolint Online