Desmond Cole-Baker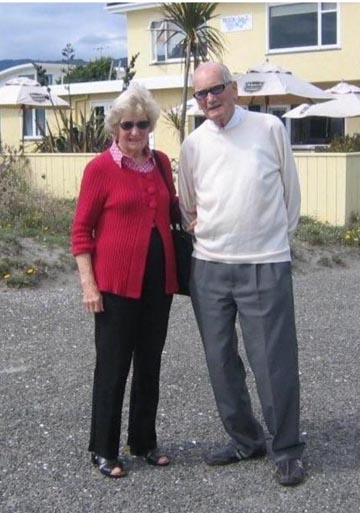 John Desmond Cole-Baker: Head of English Language Section 1961-1967

It is with sadness that we must inform you that our father passed away on Wednesday 27th October 2010 in New Zealand where our parents had lived since 1985. He was in his 91st year. He was cremated on Friday 29th October in a private ceremony, according to his wishes. For those of you who know us, my mother is in a rest home in New Zealand, close to where Rosemary is living.
We are sure that many of you remember that Desmond was involved in the early days of the International Baccalaureate and we hope that he will be remembered for his part in that initiative.
A photo of our parents taken on my fatherís 88th birthday in March 2008 is attached
Rosemary Anderson
John Cole-Baker
I remember your father well. He was always warm, friendly and very approachable.
Sincere condolences,
Anne (Winn) King LGB 62-73
I am sorry to hear of your loss. When my family arrived in Geneva in 1961, I was far from a star pupil and any school administrator would have been cautious about accepting me, but your father took a chance on me and I blossomed at Ecolint. In fact, the experience was a major turning point in my life. In my three years there, I met with your father several times and it was easy to see that he had my best interest in mind. And I certainly do remember his support of the IB, since I was proud to be involved in it as a student in its first year.
You have my sincere condolences and best wishes,
Tom Mueller 1961-1964
I remember him well, though I never had the pleasure of being in any of his classes. About 5 years ago I was attending an introduction seminar for the IB parents at my daughter's school here in Paris and the head of the School's IB program spoke at length and in the glowingest of terms about the contributions that Mr. Cole-Baker made to the founding of the IB. There is much to thank him for.
Stuart Ballin '67
I am very sorry to read that Desmond Cole Baker passed away. Although I was on the French side in the late 50s, I remember Mr. Cole Baker very well, and his very special role at the students kermesse every year. I can see from the picture that he had become very slim ! He was very special and, to my point of view, to really embodied the Ecolint spirit : openness, listening, joking, teaching with always the idea that each student is gifted for something; it is to the teacher to help him discover his gifts. I graduated in 1960 so I did not know the part he took, with Mr.Leach and Gérard Renaud at the creation of the IB.
Hélène Durand Ballivet
Very sorry to hear of your father Desmond's recent death as he was of course head of the English Language section at Ecolint for the entire period of my attendance. My deepest condolences to you and your family as especially your sister Rosemary, who was a classmate of mine.
And of course as you reminded us, your father contributed greatly to the success of the IB in its initial phases, along with the late Bob Leach, who was my GCE O level history teached for one year.
Thanks also for posting the photo.
best
Roger Murray LGB 61-67
I remember Mr. Cole-Baker very well. He was a part of my 1960s Grande Boissiere, together with Alexandre, and Messrs Quin, Garstang, Jennings, Shade, Anthony, Sharpe, Montgomery, Unitt, Roquette and Vyvyan, and Mmes Poirel and Briquet, and Mrs/Ms/Miss McIlwaine/Holden and Knight, and many others who know who they are -- together of course with some equally memorable names among the student body, to be found in the Echos of the time, but not repeated here in order to protect the guilty.
I am sorry he is gone. He presided over the ELP at LGB at a particularly difficult and contentious time, but his heart was very much in the right place, and things seem to have come out right.
Robin Dormer LGB 69
Very well put, with that list of familiar names. Mr. Cole Baker seemed the quintessential British gentleman, along with Mr. Quinn... Best to all.
Leslie Fernandez Van de Ven, lgb 1971
My heartfelt condolences to Mr Cole-Baker's Family. He was my Math teacher in 1953 or 54. His clear, methodical approach to teaching brought out the best in his students. I have only warm remembrances of Mr Cole-Baker that have stayed with me throughout my long life.
Art Retti (LGB 1951-1956)
May I add my sincere condolences to the Cole -Baker family. As an Internat student I remember him when I was there in the 52-53 time frame and the memories are rich and fond of his devotion to teaching and being such a friend to us all. My memories of Ecolint times even now are vivid and wonderful due to people like Mr Cole-Baker.
George Satterthwaite (LGB 52-53)
Very sad to learn that your father has passed away, although I had no direct dealings with him I always remember him as a kindly, approachable, understanding Head and for his support of the difficult beginnings of the IB.
David Beare 1962-65
I remember your father well, especially his kindness, his civility, and his delicate, yet direct, way of handling difficult issues. I especially recall an address he gave to our student body in 1965 or 1965 when some of the students had gotten involved in some "unfortunate" circumstance, as many of us tended to do at the age when we were all "invincible...your father used the famous quote "The darkest hour is just before dawn", which(although it was apparently an old Spanish proverb), until that moment had represented only a line from an old Shirelles song to me. It has stayed with me ever since your father's speech, as a source of comfort in times of need or deep sorrow, and I pray your father's own words can be of some solace to you and your family today at the time of his passing and in the days ahead.
My condolences and heartfelt good wishes to you, your sister, and your mother.
Take good care,
Molly Hirons Lewis, 1966
I am so sorry for your loss, your father had a tremendously positive impact on countless students. I had an O-Level Chemistry with him soon after he came to Ecolint (56? 57?), and he was a marvelous classroom teacher who could rivet your attention, explain complicated concepts in clear English, and grab the attention of his students. I remember, when attention strayed he might throw a piece of chalk across the room to grab the transgressor's eyes back to him; the gambit was invariably successful. He was the one faculty member willing to be the object of the "Throw a sloppy wet sponge at a professor" booth at a fund raising school fair -- I remember thinking what a good sport he was to do that because Ecolint faculty did not generally open themselves to public embarrassment. Of course it made us adore him.
He is well remembered, was much loved, and an excellent teacher. My best wishes to your family.
Karen Tobias Lee
Return to Tributes to Ecolint Teachers
2011-03-05 by:
Ecolint Online