William Lugg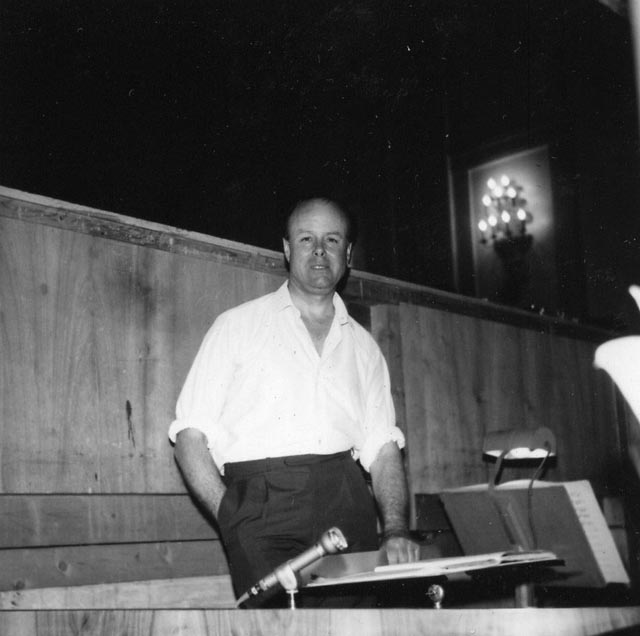 M. Lugg fut mon professeur de piano de 1978 à 1982. C'était un homme charmant d'une patience admirable. Il me fit découvrir tant de morceaux magnifiques et, à cet instant, plus de trente ans plus tard, j'écoute avec une émotion extrême un impromptu de Schubert qu'il me fit découvrir. Je lui suis infiniment reconnaissant de m'avoir sensibilisé à tant de beauté et remets mes plus sincères condoléances à sa famille et à ses proches.
Szöke Szaniszlo
William Lugg was the teacher who most believed in me. He cast me as Amahl in "Amahl and the Night Visitors" by Menotti. I resisted his entreaties to play this role as much as I could but eventually his gentle encouragement prevailed. I am now 59 and music has been central to my life. I play and teach the violin and will never forget this wonderful man.
Nigel Penney
It is with such sadness that I've learned of Mr. Lugg's passing.
He would never know the profound affect he had on me--- a distracted student with a need for attention and a secret dream of being a singer.
I would sit in the back of his class, drawing silly pictures and passing notes--- half listening, not willing to take in the gifts he had to offer.
And one day, I sheepishly entered his room and auditioned for "HMS Pinafore".
As he accompanied me on the piano, I gathered my courage and sang, "Buttercup". He stopped me midstream and looked at me through eyes I swear I thought were tearing.
After years of being his restless (and annoying) student, he looked at me squarely and asked, "Lori. How come----- I never knew?" And I didn't know what to say. I'd been too anxious to let myself be seen.
From that point on, I dedicated myself to my passion-my music. I've now been in the business for thirty years--- over a dozen LPs/CDs later.
And I will never forget the teacher who helped me to come forward, in his trusting, gentle way.
Lori Lieberman
I was sorry to hear of the death of William Lugg.
If I'm correct in my recollections, by the time I met him sometime in the early 1980s, he had already retired from the school, but was offering private piano lessons. I had convinced my parents to let me take lessons, and met with him once a week on Thursday afternoons in the then-new science building, with music rooms on the ground floor.
I'm sorry to say I was not a very good piano student. Mr. Lugg was disappointed because I had great hands for piano, could easily span 10 or 11 notes, and would learn a piece well if I applied myself and practiced. (In the ultimate tacit sign of encouragement, my father, who was and still is addicted to news programs, would actually mute the TV or radio if I ever sat down to practice... Sadly, he didn't miss much news.)
I was soon realized that Thursday afternoons were THE prime time for socializing and playing sports and that the idea of playing the piano had been more appealing to me than the actual practice. In one memorable incident, I skipped my piano lesson to play in a rugby game, which my parents had forbidden. First Mr. Lugg was concerned when I didn't show up, and called my parents to see if I was OK. Then he was concerned that he had gotten me into trouble when I explained to him that I had skipped his lesson, had lied to my parents beforehand, and then had lied to them afterwards as well to deny his claim that I hadn't shown up! Obviously, I was an even worse liar than pianist, and so I gave them both up shortly after that incident.
Mr. Lugg was a very kind and gentle man and thoroughly understood and sympathized with my boyhood predicament. I remember that on a later Thursday afternoon he stopped by the half basketball court behind the Grande Maison and watched for a while as I played a game of 3 on 3 with the enthusiasm and energy that I simply hadn't been able to sustain for the piano. I distinctly remember his cheering when I executed my then signature turnaround fadeaway bank shot from the low post to win the game. I thought, that is very decent of him to have no hard feelings about me ditching the piano for basketball. Generally, he was a man who modeled kindness and gentleness, and was just so likable in his humble manner.
I don't think I ever saw him since then, but I wish I had found a way to tell him that his love of music did inspire me. In college, I took music theory classes, and taught myself rudimentary guitar. (I recalled Mr. Lugg's comment back in the day, "it does have the advantage of being a portable instrument.") I began to compose simple folk songs. I always remembered his comment that he loved losing himself in playing music. He demonstrated this enthusiasm when we would play duets, and I have always remembered that sense that losing yourself in an activity is its own reward. I have since read that this is known as a state of self-hypnosis, or flow. Although I have never practiced enough to gain much proficiency, I have found that I also love losing myself in playing music.
My experience with Mr. Lugg illustrates to me the influence that adults can have on children without perhaps being aware of it. I am sure he influenced many star pupils, and that he was aware of that. He may not have been aware that he also influenced across many years of time, a student who didn't practice much at all, and ultimately quit. Many thanks to William Lugg.
Jeff Belkora, LGB 1986
Mr. Lugg was the house master at Villa Verey when I first arrived at Ecolint in 1964. He gave me my first hot toddy when I was ill. No kinder person at the school. A pleasant and warm memory.
John Sciaudone
I have just received the news that Mr Lugg died on 27 February in Warwickshire. Many of us will remember him fondly for his patience as our music teacher and conductor of the choir and orchestra, not to mention his legendary performances of "The Gondoliers", "The Pirates of Penzance" and other musical works.
Robin Halle (LGB 70)
Mr Lugg was indeed a patient man, and being a music teacher to teenagers (not all of them musically talented) cannot be, or have been, a sinecure. He was also an unassuming, decent, shy, modest, sensitive man whose passing leaves our world a lesser place. His putting on the performances that my namesake mentions (he was the musical director and it was done with a dramatic director as well, e.g. Anne MacWilliam or Amy Wootten or James [?] Findlay, but there must have been others) was in retrospect rather heroic, but they filled the Theatre de la Cour St. Pierre, and not only with proud parents -- those performances were reviewed in the local press, and by no means unfavourably. "The Gondoliers" memorably starred Bob Rae, later to become Prime Minister of Ontario; and many also starred Jo Jennings, Mrs Don Jennings, a trained operatic singer. We should also not forget the Christmas concerts, often in the Scottish church in the Vieille Ville.
RIP.
Robin J. Dormer LGB '69
I have some vivid memories of an "HMS Pinafore" production. If I'm not wrong, Don Jennings portrayed Dick Deadeye in that one, with his wife as "the fairest flower that e'er blossomed on ancestral timber," also called Josephine, and John Intrator as "the captain of the Queen's Na-vee."
Be well.
Louise Bloomfield
What a lovely memory of Mr. Lugg leading our choir. Our book had songs like "The Ash Grove" and "Carmen Carmela" which Callie Williams and I enjoyed singing together on our walks home a haute voix... back in first form. My favorite show was HMS Pinafore. I forgot that John Intrator was the Captain of the Queen's Na--vee... But I remember really belting out "He is an Englishman" on stage with Peter Hislaire next to me. When I hit the really high loud note, Peter couldn't believe it. Neither could I. It was fun, to be thirteen and appearing in such wonderful productions.
All those of you who have good memories of the productions - where and when you appeared, let me know what songs you remember. I am writing original material for a musical tribute to Ecolint, but I could use all the material you can think of. I am partial to Chopin and Shubert to establish the classical atmosphere of living in Geneva in the 1960s - I lOVE shuberts unfinished symphony for instance, to show the busy-ness of the cosmopolitan city area contrasting with the bucolic countryside. Any and all ideas are welcome.
Now I have even more to work with, RE creating such acharacter as Mr. Lugg... He will be missed. He was a great teacher and shared such deep love of music with a motley crew of kids. I loved being in those productions. Thank you Mr. Lugg...
Leslie Van de Ven, RN, BA LGB 1971
I too owe a debt of profound gratitude to Mr Lugg. We came to Ecolint from another school after seeing the Pirates of Penzance. There was no music that I can recall at the other school. I loved choir practice days, madrigal days, etc. The Christmas and operetta productions were absolute highlights of each year. I loved the music room, the Old Town venues, going through town after choir practice to get the train home, sometimes 12/13 hours after I'd left it.
I remember How lovely is thy Dwelling Place from Verdi's Requiem, Haydn's Creation, and the first time I ever sang Handel's Messiah. I remember Fair Phyllis and the Silver Swan. I remember appreciating the talents and abilities so generously shared of many people in the course of making music at Ecolint. Thank you Mrs Hearn for making my costume and dying lace with tea for it. There is something profound and joyous about making music together. I can still bring to mind various people sitting in their voice groups or standing around the piano. He gave us those experiences.
Robin, thank you for your tribute. I remember him just as you describe him. He taught what he knew: which was European Classical music, of Christian origin if it had a religious source. I expect the music taught at Ecolint is sourced more widely these days. I do hope that music continues strongly at Ecolint.
Polly Mason (Pauline LGB 69)
Return to Tributes to Ecolint Teachers
2009-05-01 by:
Ecolint Online