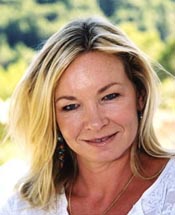 writing as Francesca Prescott
Mucho Caliente!
Wish upon a Latino Superstar
A romantic comedy set alongside the Mediterranean Sea is a winning combination for Mucho Caliente! Francesa Prescott reminds everyone in this delightful novel that romance is alive and well for women in their thirties. A rich cast of characters entertains and excites as they engage in the exploits of Gemma Talbot and Emilio Caliente, two unlikely lovers who are thrust together by a passion to escape the lives that they have left behind.
From the moment they meet on a flight to Ibiza, their romantic interlude spawns a series of misadventures evoking the scenery and bohemian lifestyle of the renowned island resort. Despite the difference in years, the two compliment each other in ways that often belie their contrasts. Emilio, the Latin pop super-star, and Gemma, recently divorced, strike up a conversation that blossoms beyond their unspoken desires.
The plot entwines the two in a series of fun filled situations complete with a vindictive ex-husband and his scheming lover, a deranged manager, a career in crisis, two live-in friends, and a car that has a personality of its own. Gemma's character contends with insecurities, the desire for independence, and a decided opinion about love and romance. Emilio represents every woman's fantasy, with a personality to match, who renews confidence within Gemma.
This book will have you laughing out loud at the zany and curious characters who wind their way through a host of misunderstandings, slips and missed connections. The fun begins from their first encounter and takes the reader on a journey into the zany and light-hearted world of Mucho Caliente!