The Adorations-A Novel in Double Time
Killoyle, An Irish Farce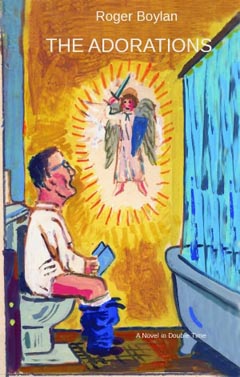 The contemporary world meets its match in The Adorations. Roger Boylan defines an innovative style that blends two distinct novels which slowly converge. It explores the intersection of history and fantasy in a revealing tale of modern life coming to terms with the recent past. The two principal characters meet by chance in a therapists waiting room, one a boozy Geneva professor turned mystic, and the second a biographer of another reluctant mystic from the early 20th century. The novel follows how the professors' life is transformed by this chance encounter, and his convergence with the biographer's story from another era.
Visited by the Archangel Michael in a Dickensian vision, Gustave is mystified about why he is being recruited into a legion of divine warriors. His bewilderment intensifies as the visits recur, as his daily life as a middle aged professor comes under increasing scrutiny by his employers and the authorities. While reading a biography of an early 20th-century Austrian aristocrat, teacher, and mystic Stefanie von Rothenberg, Gustave comes face to face with the book's very attractive author Martine Jeanrenaud in the waiting room of his psychiatrist's office.
Chapters of Martine's book alternate in their entirety among Gustave's first person narrative in The Adorations. These chapters plunge Gustave into the world of Stefanie von Rothenberg, who was as unlikely a mystic as himself. With recurring visits from both heaven and hell, Stephanie is also drawn into equally tenacious earthly visits from a young and ardent admirer named Adolf Hitler, whom she first met in Linz, Austria in 1907. Gustav experiences a growing concern that he is losing his mind, with the feeling that Stefanie's story is becoming his story too. A novel in double time, The Adorations is Boylan's magnum opus, moving like a fugue through the history of 20th century Europe.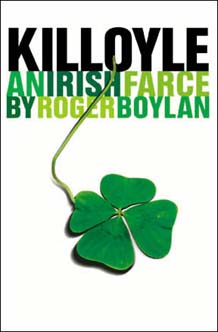 For pure reading pleasure, Roger Boylan's first novel Killoyle is a treat to be savored. A delightful satire of life in an Irish village, Killoyle follows the lives of the town's inhabitants, touched by drink, religion, and more than a touch of blarney. Alternating between despair and hilarity, sophistication and slapstick, Boylan's unpredictable, spontaneous flashes of merriment keep the reader entertained throughout. Killoyle wildly celebrates the great Irish tradition of laughter amid despair.
Boylan rises to the challenge of doing something original with a novel, in the spirit of the great Irish novelists James Joyce, Flann O'Brien, and Samuel Beckett. This wacky tale is fleshed out with acerbic, opinionated, hilarious footnotes addressed directly to the reader, that rudely comment upon the characters and numerous other subjects. The reader is treated to a virtuoso of language by the author who appears to write for the pure pleasure of doing so.
Roger Boylan's roots are in Ireland and the New York area. After attending the University of Ulster and the University of Edinburgh, he worked as a translator, computer technician, teacher, and book editor. His stories and articles have appeared in various journals, including The Literary Review, The Recorder, and The Austin American-Statesman, and he is a regular contributor to Boston Review's New Fiction Forum.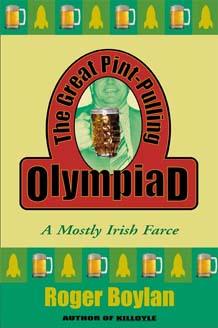 His second novel The Great Pint-Pulling Olympiad continues the uproarious saga of the hapless inhabitants of Killoyle, through the frenetic week of the Pint-Pulling Olympiad.
"With a wink and a nudge, Boylan's pyrotechnic prose brings to life Ireland at its manic extremes, proving the author a dazzling and distinctive talent in American fiction". As richly captivating as its predecessor, The Great Pint-Pulling Olympiad is witty and erudite and comes complete with the deftly crafted clever details and footnotes.
If you have been searching for a book that is both hilarious and literary, you will definitely find it here.
"Boylan's narrative resembles James Joyce at his comically prolix best, with a similar appetite for vernacular nuance and pop allusion."
The Village Voice
"A grand Irish entertainment: Roger Boylan explores life's absurdities with incomparably extravagant wordplay."
The Financial Times
"This is a virtuoso performance, filled with truly funny turns of phrase and event."
Publishers Weekly
"Killoyle, An Irish Farce is a wonderful book following in [the] Anglo-Irish literary tradition. And like its Swiftian and Tristram Shandy forefathers, its characters all appear to be running low on luck, but the book is written with such humor and sympathy that their lives are a joy to participate in . . . Buy this book and read it."
Literary Society Review