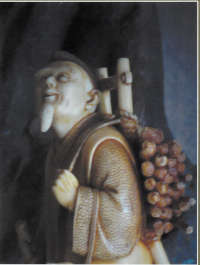 Slow Cooked Thoughts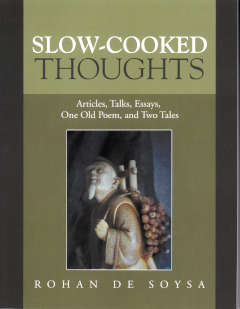 Rohan de Soysa reflects upon a lifetime of experience in a collection of talks, essays, and articles published under the title Slow-Cooked Thoughts: Articles, Talks, Essays, One Old Poem, and Two Tales. Originally intended as a letter across generations, this thought provoking book conveys respect for life and the natural world, and a firm commitment to conserve our environment through a shared reverence for natural processes.
This theme recurs throughout a lifetime of written articles and public presentations by de Soysa that express a profound friendship with life on earth in all of its forms. Many articles cover the current state of the environment and effective approaches to conservation practiced in different countries around the globe. He acknowledges the detrimental effects of colonization, extraction, and other forms of environmental exploitation by emphasizing the need to pass along a reverence for the natural world to all future generations.
Richly illustrated with 68 original photographs, Slow Cooked Thoughts also reflects de Soysa's talents as a photographer and as an art conservator. Rohan's former classmates will be delighted to read the chronicle in one article within Slow-Cooked Thoughts of his road trip by automobile from London to Colombo, crossing a very large number geographic, national, and cultural boundaries along the way.
Rohan de Soysa, current Chairman of the Board of Trustees of the Sapumal Foundation, oversees the running of a charming old house which is home to an extensive collection of modern art. The house was originally the home of master portrait artist Harry Pieris who was the Secretary of the '43 Group, the first modern art movement in Sri Lanka. Harry had studied art in London and Paris, where he became a close friend of Matisse. A core group of ten artists, headed by photographer Lionel Wendt, founded the Group in 1943. Examples of work by each of them are among the 300 or so works on display in the gallery. Pieris was the founder chairman of the Sapumal Foundation and bequeathed the house and its art collection to the foundation when he passed on in 1988.
Rohan de Soysa also established the first community-managed conservation project in Sri Lanka, a project that he has continued for nearly four decades, through the acquisition of a tract of secondary jungle that has recently been declared a national sanctuary.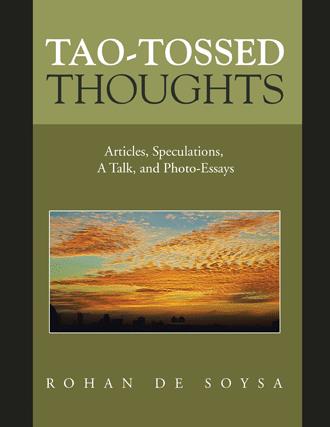 In a sequel to his collection of thought-provoking articles, de Soysa continues a conversation with his grandchildren with Tao-Tossed Thoughts. Richly illustrated with original photographs of Sri Lanka and beyond, Rohan explores fundamental concepts of creation, life, and the balance of nature as expressed in a number of philosophical movements.
Through the voices of a tree and its three saplings, this new tale unfolds around the origins of the universe and the inherent intelligence expressed by a multitude of life forms, within the environments in which they have developed on Earth. During the course of this exploration of our environment, we contemplate the progression of life and the duality of its energy defined by opposite, yet complementary forces. We discover how the duality of these complementary forces were given meaning by ancient Chinese philosophers and Indian sages, and consider how the inherent spirituality represented by these complementary energies has coalesced over the aeons of time.
Tao-Tossed Thoughts, emphasizes the adoption of universal ideas to help make this planet a better place for generations to come. Spiritual and material evolution are portrayed as developing in concert with one another through each succeeding incarnation. As each new incarnation forms a bridge for evolutionary strategies to perpetuate and develop further, these strategies have in turn become the basis for spiritual development, development that finds common ground in disparate human philosophies ranging from the oral history of aboriginal tribes in Australia to the writings of the Gautama Buddha.
This spiral of energy and life follows us through our natural existence, through our material creations and arts, and through the environment on which we depend. Tao-Tossed Thoughts may be written for our descendents, yet it succeeds in reawakening our senses towards the world around.