DEAL!
Professional services span wide range of industries, providing valuable expertise to an equally wide range of clients. While leading a patient support program in a large medical center, Jeff Belkora sought to address the needs of health care professionals by developing a client-centered approach to professional services that can be applied across a broad spectrum of professions. The result is a comprehensive guide for establishing a constructive and sustainable professional practice.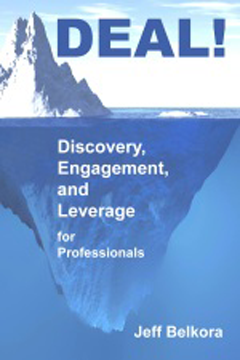 DEAL! Discovery, Engagement, and Leverage for Professionals guides professionals through the process of discovery, engagement, and leverage in their relationships with clients. It defines a useful methodology for guiding clients towards making good decisions, while acting as a true fiduciary by placing the client agenda ahead of other considerations. The methods employed involve continuous improvement in making the transition from a professional-centered practice to client-centered care.
A client-centered approach to professional services places the emphasis on advancing client interests through the creation of a service delivery model that supports these objectives. This approach represents a disruptive innovation that contrasts sharply with the more common institutionalization of service delivery models which are more focussed on sustaining the service itself. By emphasizing professionalism over professionalization, Belkora demonstrates that a client-centered approach helps clients to reflect critically on their decisions and to act with greater clarity, serenity, and harmony.
Each chapter in DEAL! evaluates one aspect of the client-centered model, supported by case examples and their results. The first section details the drivers that compel clients to take action, the quality of decision making, strategies for critical reflection, and the application of 'thinking, talking, reading, and writing' to maximise overall effectiveness.
The second section provides specific guidance to implement these concepts through a sequence of practical steps. The process of discovery involves a series of client interviews to formulate a client agenda. This is followed by an engagement process when the professional becomes involved in decision support with clients and translates insights into action. Effective action also requires professionals to leverage organizational resources and to tailor these resources to the client journey. This enables all participants to contribute to the process at their optimum level of expertise.
Jeff Belkora leverages his PhD in engineering to enable professionals to grasp complex systems, to gauge the dynamics of these systems, and to improve their ability to communicate those insights to their clients. The result is a motivating and expert guide that helps professionals to work more effectively through critical reflection and the design of sustainable work flow systems.