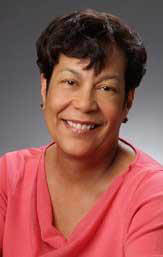 Black Gotham
A Family History of African Americans in Nineteenth-Century New York City
New York during the mid nineteenth century was home to a prosperous community of people of African descent who achieved remarkable success in many trades and professions, while playing a significant role in public life. During a visit to the Schomburg Center for Research in Black Culture in the New York Public Library to research her personal family history, Professor Carla Peterson discovered a wealth of information about the vibrant nineteenth-century African American culture to which her family belonged.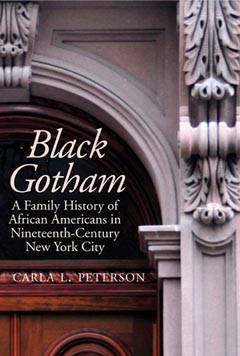 This discovery led Peterson to delve further into an era and a culture that is often overlooked by scholars. The resulting narrative: Black Gotham - A Family History of African Americans in Nineteenth-Century New York City depicts a city well before the Harlem Renaissance which was home to a class of educated blacks that produced social activists, intellectuals, writers, and artists. In contrast to the predominant experience of enslavement by southern black Americans during this period, the story of northern free blacks reveals the significant role that they played in the anti-slavery movement and other forms of social activism that played a significant role in shaping American history.
Life for African-Americans in New York City remained difficult during the mid nineteenth century when racial discrimination and segregation were the norm. The draft riots of July 1863 saw many black residents flee to neighboring boroughs to escape the wrath of recent immigrants to the United States who reacted violently to being called up to fight in the Civil War that was raging across the nation. The widespread devastation of the city's black community during the draft riots spared Peterson's great-grandfather Philip Augustus White, whose home and drugstore were defended from the mob by his Irish customers and neighbors.
The story of Black Gotham begins in the 1820s with the students of the Mulberry Street School in Lower Manhattan who graduated to become eminent community leaders. Peterson traces their social and political accomplishments together with their achievements in business, the professions, and education, in a vivid, fast-paced style that brings back to life a vital, yet forgotten period of American culture.
Winner of the 2011 New York City Book Awards sponsored by the New York Society Library, Black Gotham was also recognized by the 2011 American Publishers Awards for Professional and Scholarly Excellence, the 2011 New York Book Festival Biography-Autobiography Category, and the 2012 New York Book Festival General Non-Fiction category. This book is accompanied by an online resource, The Black Gotham Archive, which invites public participation for uploading stories, images, and interactive resources to explore the history of Lower Manhattan and Brooklyn and to gain deeper understanding of nineteenth-century black New York. [ archive.blackgothamarchive.org ]
Carla L. Peterson is a Professor of English at the University of Maryland where she has earned recognition for her work in the area of gender and culture in historical literature. She has written and spoken extensively on the topics of nineteenth-century African American women writers in the northern United States, and of African American novelists in the post-Reconstruction era. Her expertise in this field provided a notable contribution to the production of the television documentaries: 'Ticket to Freedom' and 'Remembering Slavery'. Peterson also conducts curriculum development workshops for public school teachers and has been active with American Studies programmes in Rio de Janeiro, Mexico City, and Quisqueya University in Port-au-Prince, Haiti. Peterson is currently a member of the Maryland Humanities Council Speakers Bureau and serves as an affiliate faculty member of the American Studies, African-American Studies, and Women's Studies Departments at the University of Maryland.
The Library of Congress in 2011 hosted a presentation by Carla Peterson about her book Black Gotham. Her presentation at the Library of Congress is available to view online at: www.youtube.com/watch?v=JQuLfkavfh8