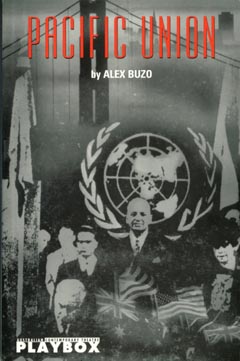 Pacific Union
The Story of the San Francisco Forty-Fivers
Pacific Union is the latest drama by playwright Alex Buzo. It covers the organizing conference for the founding of the United Nations held in San Francisco in 1945.
The United Nations Conference on International Organisation opened on April 25, 1945 at the San Francisco Opera House. Nine weeks later the delegates had what they came for - a UN Charter - but meanwhile the map of the world had changed and a whole new kind of warfare was born. The "Forty-Fivers" came up with a workable document and one that has not been superseded - yet - but it was a close call for all concerned.
The characters in the play include Carolyn Anspacher, Anthony Eden, Dr H.V.Evatt, Dean Virginia C. Gildersleeve, Alger Hiss, Clare Boothe Luce, Jan Masaryk, V.M.Molotov, Carlos P. Romulo, T.V.Soong, Edward R. Stettinius, Jessie Street and Walter Winchell. Each of them is portrayed in a realistic and captivating manner, reflecting the true drama of the conference.
"The play is, quite simply, a delight." Chris Boyd, Herald-Sun (Melbourne) 22 September 1995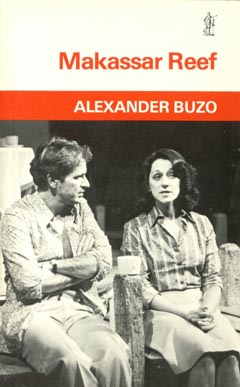 Makassar Reef was first performed in 1979 and features a wide ranging cast of characters brought together in a rough and tumble port town in the Indonesian archipelago. The play reveals each character and the circumstances surrounding their arrival in the port, against the backdrop of smugglers and political strife.
Two of the characters who recently there arrived from Geneva, no doubt reflect the first hand experiences of Alex himself. One of them, Camilla, expresses her frustration at having to leave her friends and school to follow her mother back to Australia.
In addition to being a playwright, Alex is a frequent contributor to the Sydney Morning Herald with feature articles on a number of subjects, including our alumni world reunion. One recent article about a new book on Mussolini by R.J.B. Bosworth is featured below:
Other works by Alex Buzo:
Shellcove Road [drama, performance]
Macquarie : A Play [drama, historical fiction]
Norm and Ahmed [drama]
Coralie Lansdowne Says No : A Play [drama, humour]
Rooted [drama]
Makassar Reef [drama]
Tom [drama]
The Search for Harry Allway [novel, crime]
Martello Towers [drama, humour]
The Front Room Boys : A Play in Twelve Scenes [drama, humour]
The Marginal Farm [drama]
Big River [drama]
Applications for performance or public reading can be made with the author's agents at: mmconnolly @ ozemail.com.au