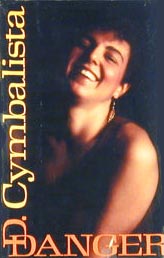 Danger
The neighborhoods of Manhattan form the setting for this compelling collection of short stories by Debbie Cymbalista. With a terrain dominated by addictions and dependencies, sex, alcohol, drugs, and trivial pursuits, the characters of these eleven stories often inhabit a bleak landscape. Their lives and love affairs reflect a common thread winding its way through a disillusioned, postmodern, and yuppie social landscape.
As a market research consultant, Cymbalista is a close observer of the characters she depicts in her short stories, recording their complaints without judgement or evocation. In the opening story of Danger, an adolescent girl reveals her secret love life with an abusive, much older man, describing an affair that envelops her life in a terrifying yet believable cycle of domination and submission.
Most of the eleven stories are narrated by women whose lives ring with authenticity. After an energetic morning with her lover in "The Light in the Window," a young bond trader reflects upon her emotions towards a disintegrating relationship as sea birds crash into her window. In another story, "Manhattan Boxes" follows the course of a young woman's affairs by progressing through the contents of her lover's refrigerators.
Reviewed by Gary Glickman in the New York Times, Danger reflects characters who are full of rage or contempt for the men in their lives. Their narrations, which are ostensibly about love affairs, are shown to be in reality revealing exactly the the opposite. Many of Cymbalista's characters depict essentially the same person "ranting against the shortcomings of everyone around her." Glickman laments that the reader is left with the hope that these complaints might lead to greater insight and a path for transformation that extends beyond individual preoccupations.
Yet despite the bleak landscape and the fragile milieu in which the characters expose their emotions, Cymbalista accomplishes the feat of portraying this insular world for what it is, one that exists without deeper understanding or a wiser, more generous vision.