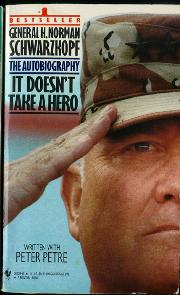 It Doesn't Take a Hero
Commander of the United Nations allied forces during the liberation of Kuwait in 1991-1992, General H. Norman Schwarzkopf narrates an excellent autobiography of his life and career. Telling his story in a straight-forward and candid style, Schwarzkopf delivers a riveting account of the first Gulf War, offering his personal perspectives in a behind the scenes look into the events and diplomacy leading up to the battle for Kuwait.
The title of his autobiography comes from an interview with the US television personality Barbara Walters in 1991: "It doesn't take a hero to order men into battle. It takes a hero to be one of those men who goes into battle."
Having grown up in military family, and spending many years of his childhood in the Middle East, General Schwarzkopf acquired the skills and languages, as well as an appreciation for other cultures, that stood him well while serving as a military officer. His insights into the politics of the Middle East and his connections with leaders in the region during the first Gulf war enabled him to resolve many diplomatic issues before they escalated, thereby forging and sustaining a coalition of many disparate nations to ensure a successful result to the conflict.
Schwarzkopf's outlook on military operations and strategy developed over the course of a lifetime. His autobiography covers much of his formative years and his personal experiences in the army during the Vietnam War. Like General Collin Powell, Schwarzkopf rails against the stupidity and arrogance of that war, which led to the senseless sacrifice of so many people by politicians and military 'brass.' Both Schwarzkopf and Powell became equally convinced of the need to work towards changing the army from within.
This autobiography also describes how the army had changed during the intervening years between Vietnam and the first Gulf war. Schwarzkopf's candid review of the performance of his own army and the officers under his command, while based in the Saudi Arabian desert, generated intense criticism from the military establishment. Yet this candid review offers the reader a rare behind the scenes look at the entire Gulf war operation. Throughout the book, Schwarzkopf refrains from naming individuals who might otherwise deserve criticism, while including and highlighting those who deserve praise. This quality reflects the great character of a man whose outlook on military operations and strategy succeeded after being put to the ultimate test.