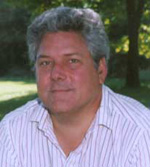 Gandhi Goes Fishing
An accomplished playwright, Al Sjoerdsma offers an original and spontaneous style to the dramatic arts. Drawing inspiration from a wide range of subjects, his work has been performed at many theatres and universities around the United States. Al has won the Hopwood Award for drama from the University of Michigan at Ann Arbor, where he has been playwright-in-residence at the Canterbury Stage Company and at the Performance Network. Al is a member of the Dramatists Guild.
Sjoerdsma's works include Gandhi Goes Fishing, a one act play in which the saintly world leader offers some hard-won advice on love and non-violence while spending a quiet morning fishing with a nervous truck driver named Bob. Gandhi Goes Fishing has been performed by the Playwrights Studio Theatre in Milwaukee, Wisconsin, the City Theatre in Miami Florida, and at the Vital Signs Festival in New York. The Vital Theatre Company has also performed Sjoerdsma's Ice Floes.
Regularly Scheduled Programming takes a satirical look at being saturated, dominated, and submerged by pop culture, by portraying a world where there are suddenly no movies, no television, no radio, no musicals, no video games, and no web sites. It was performed at the Theatre Brut: Seven Deadly Sins festival by the New Jersey Repertory Company. Among his awards for audio theatre and short plays, Seeing Mirrors was a finalist in the 2004 National Audio Theater Festivals Script Writing Contest, with Toyland receiving acclaim by the Creative Mechanics Theatre Company.

Love Among the Aurochs is a quirky comedy about a nerd who builds a time machine in his living room, and Porter is a fascinating mystery about two brothers and their father's will. The award-winning 82nd Shepherds' Play was published in Incisions: Award Winning Plays from the Stage and Screen Book Club. Rounding out Sjoerdsma's collection of plays are: WMD, performed by he Heartlande Theatre Company, Dog, Progress, and Swing, one of his personal favorites.
Being a mild-mannered playwright provides Al with a novel cover for his secret identity as the resident historian for Marvel Comics' Spiderman, Captain Marvel, and many other superhero adventures. His group of Marvel Maniacs have joined together to create a series of historical reviews, attracting the latest generation of Marvel fans to all of the action since the superheros first appeared in print.
Al is also an expert on early Silver Age Marvel comics and collects a large number of different fantasy and science fiction series. His complete Spiderman collection has provided a perfect background for developing the SpiderFans online network. A number of Marvel Handbooks and Lookbacks have resulted from the collaborative efforts of these fan networks.
By far the most senior member of SpiderFans, Al Sjoerdsma contributes to many editions of the twelve-volume guide to the Marvel Universe: All-New Official Handbook Of The Marvel Universe A To Z. Its most recent installment features more than 100 entries in one of the most exciting and comprehensive Marvel handbook ever assembled.
His contributions to a great number of Marvel compilations and Official Handbooks are currently in print. The Official Handbook of the Marvel Universe: Spiderman Back in Black highlights our hero exercising his fantastic powers in his enigmatic ebony attire. This handbook also represents the return of veteran Handbook illustrator Eliot R. Brown and treats readers with a look at the high-tech specifications of Spiderman's movie costume.
A look at the Marvel Comics catalog reveals writing credit attributed to Al Sjoerdsma for: Marvel Comics Legacy: The 1960s-1990s Handbook, Mystic Arcana - The Book of Marvel Magic, Teams 2005, World War Hulk - Gamma Files, Marvel Zombies: The Book of Angels, Demons & Various Monstrosities, as well as each of the individual Marvel Legacy Handbooks covering the decades from the 1960's to the present day. [ www.spiderfan.org ]