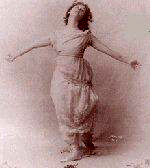 Isadora : Portrait of the Artist As a Woman
Isadora Duncan was the founder of "free form" modern dance. Fredrika Tuttle Blair has written an excellent biography of Isadora Duncan's pioneering style, which was published in English, Russian, Spanish, and Japanese.
Fredrika, who attended Ecolint in the 1930's, wrote a large number of short stories and articles which continue to resonate in the modern world. Her article "A School for Nations" was published in the New York Herald Tribune on the occasion of the founding of the United Nations International School in New York.
"A School for Nations" covers Fredrika's experience in Geneva and the reaction of former Ecolint students to the hostilities of the Second World War. The article appears in its entirety by following this link.