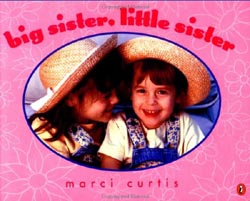 Big Sister, Little Sister
Big Brother, Little Brother
A collection of photo essays, these three books by Marci Curtis are recommended for children ages 3 to 7 and enjoyed by people of all ages. In Big Sister, Little Sister Marci portrays four pairs of siblings in a photographic celebration of sisterhood. The sisters make each other laugh and dry each other's tears. They are engaged in many activities together, photgraphed in bright colorful photos with cleverly illustrated text captions highlighted in color to guide young readers through the action. The inside covers show all eight girls, pajama-clad and piled on a bed on one cover and dancing together in dress-up clothes on the other. This sweet book shows that, big or little, a sister is a friend for life.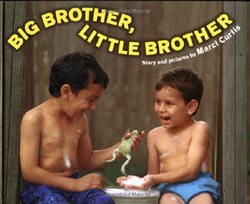 Big Brother, Little Brother explores the lives of five pairs of brothers, sharing their moods and activities in bright colorful photos mostly taken in outdoor recreational settings. The five pairs of young brothers are portrayed in unforgettable moments of childhood having a great time together and underscoring the mutual affection and respect that binds them. While the pictures evoke smiles and laughter, the rhyming captions enhance the sense of fun with creatively illustrated text.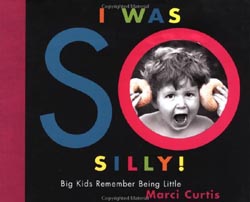 It is childhood revisited in I Was So Silly as "Big Kids Remember Being Little." Each section of this book takes on experiences from infancy, such as "Being Born" and "Tales from the Crib." and is accompanied by quotes from youngsters about the silly things they remember while growing up. Adult readers will have a hard time keeping a straight face while their children will want to share their own memories. The carefully retouched photographic images appear to have been hand-painted, capturing ordinary children reflecting upon themselves. This book is an ideal gift for anyone experiencing the once-in-a-lifetime process of growing up.